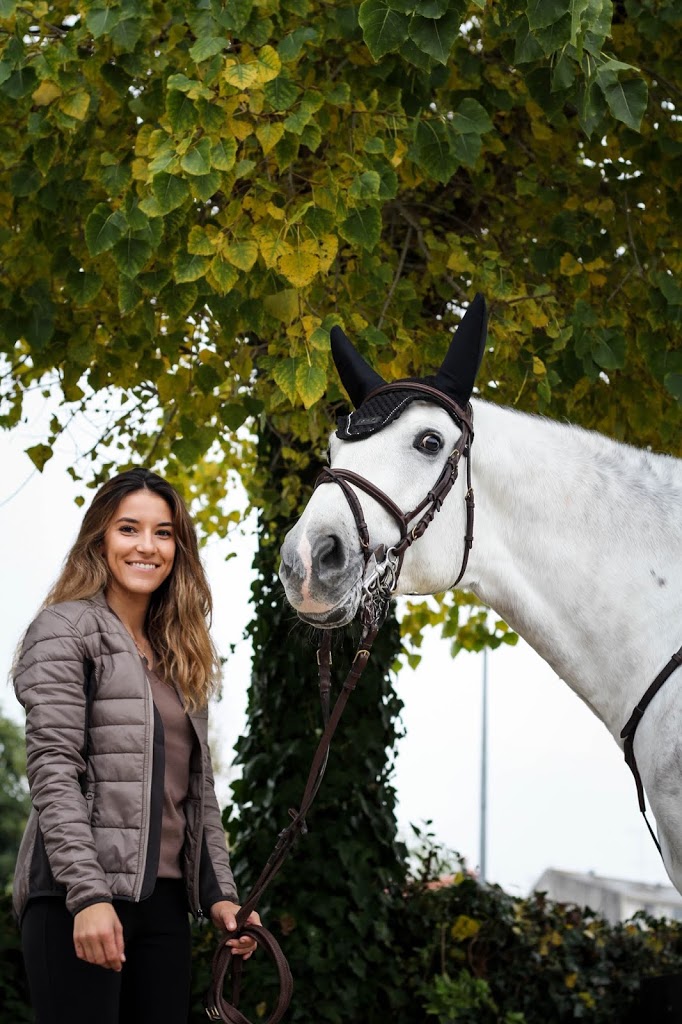 Hi everyone, happy Saturday!! One week ago, by this time, I was wearing this #ROOTD and making Insta Stories on Kingsland's Instagram account. That was one of the best experiences I've ever had – I met many people, shared my day with a huge audience and even got to answer some really fun questions.
As promised, today I'll share the outfit I wore, as well as Gali's! Everything is from Kingsland.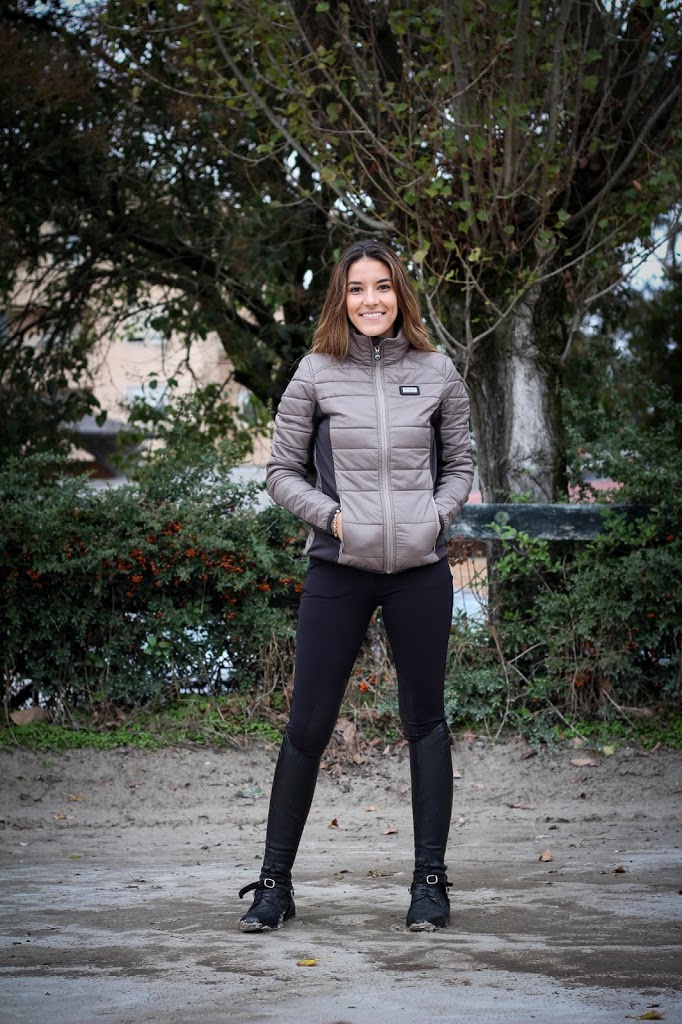 Starting off by the jacket, it is called
Buffy
. The only "winter" jacket I already had from Kingsland was the classic unisex jacket and although it is very cosy, it doesn't have the most feminine silhouette – I know there's also the ladies' version of that jacket but, some years ago, when I convinced my dad to give me that jacket as a birthday present, the tack store only had the unisex version and I couldn't miss the opportunity! HAHAHA. Now this one is a totally different story, I love its cut, I love the colors and it is so lightweight. There's something I don't understand though, how can such a thin fabric keep me so warm? I would risk saying that the classic bomber will keep you warm if you are wearing many layers and this one doesn't force you to do that! If you see this jacket at a tack store, please try it and tell me if you feel the same.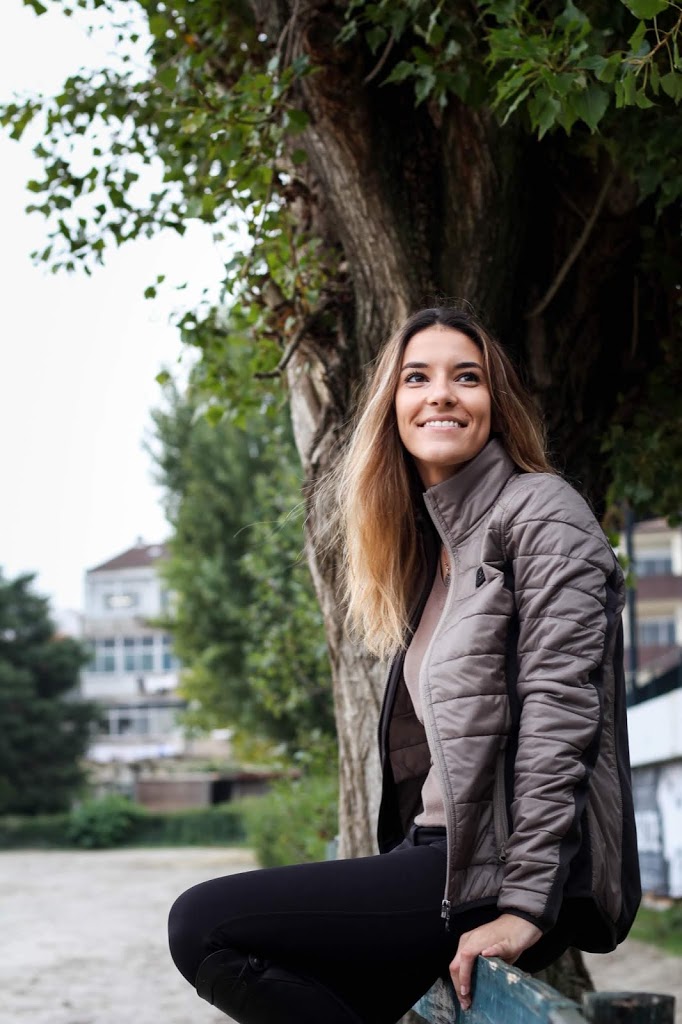 The V-neck is called
Binky
and it is a dream come true, I needed it! I have lots of polo shirts, lots of t-shirts but when it comes to long sleeves (or long sleeves that I like to wear to ride) what I have is close to nothing, why?!?!
This is the first ever knit I own from an equestrian brand and it was a superb addition to my closet. It is classy and the fabric feels soft. Sometimes I have some trouble with this type of shirts, they start getting looser and I stop loving them (even after just one wash I can feel it) but so far so good with this one. Another thing I'm loving like crazy: the patches on the elbows!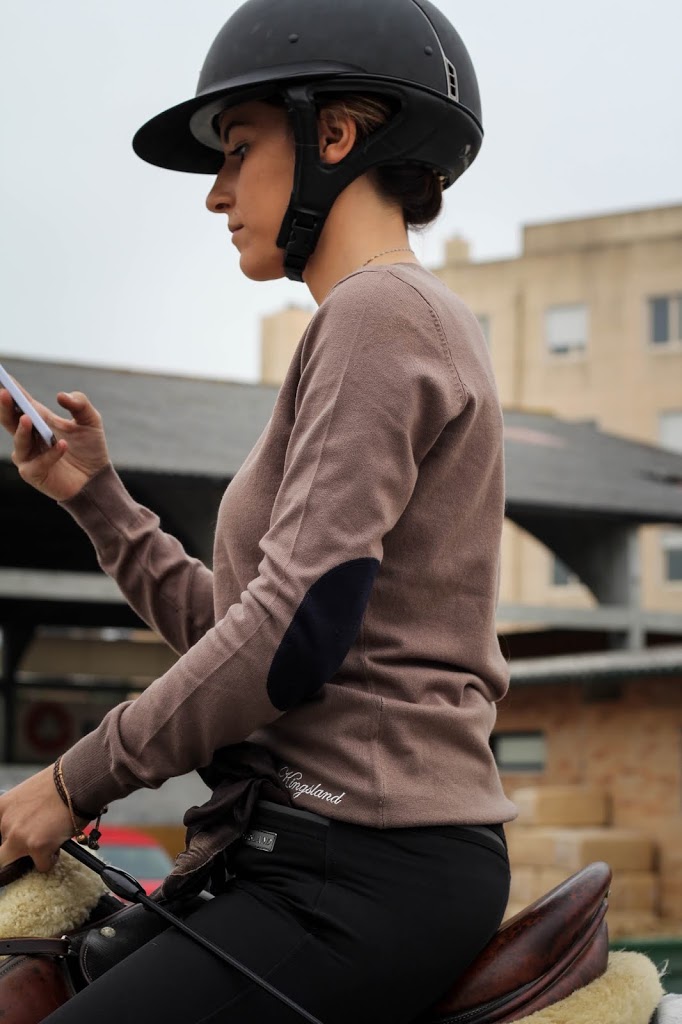 After buying my princess breeches earlier this year, I finally found the model of Kingsland breeches that suits me the best: the Kadi model. They are high waisted, have a larger waist band and I think this is what makes them look really good on me (modesty aside!!!).
This season's design of the
Kadi
model is the one I'm wearing. I totally forgot to take pics of their belt loops which have a tiny crystal on each one and their back that has the loveliest embroidery – sorry everyone!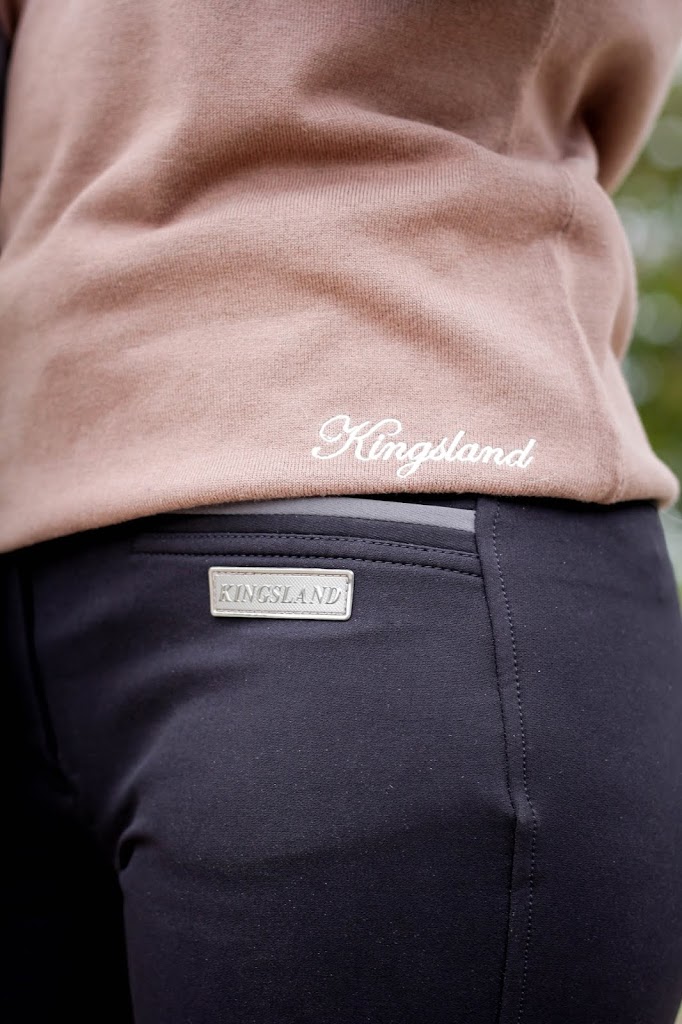 Next up is Gali's outfit. He got the prettiest matching set: Fully black and sparkly. My heart melt the first time I saw him wearing it!!!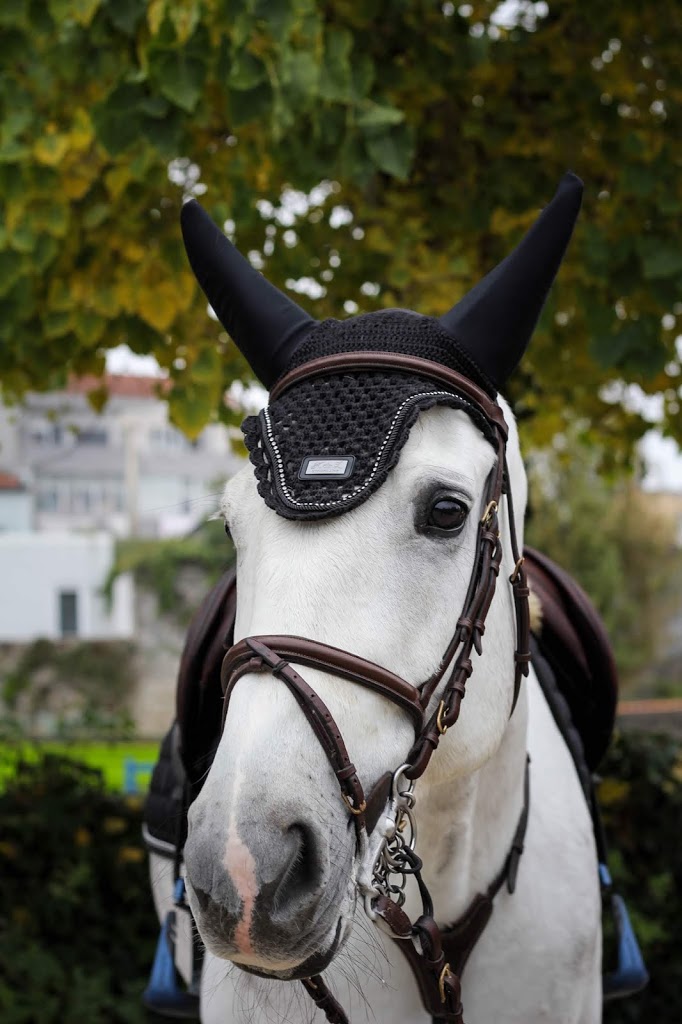 The fly hat is called
Lucinda
. This was Gali first time wearing a soundproof fly hat. I was a bit concerned that he wouldn't get used to it as he is very picky with what goes on his ears but he behaved like a perfect young man and didn't find anything strange!
Although some people use fly hats on a daily basis, I only wear them at shows and sometimes Gali gets a bit distracted with noises so I'll have to see if this will help me!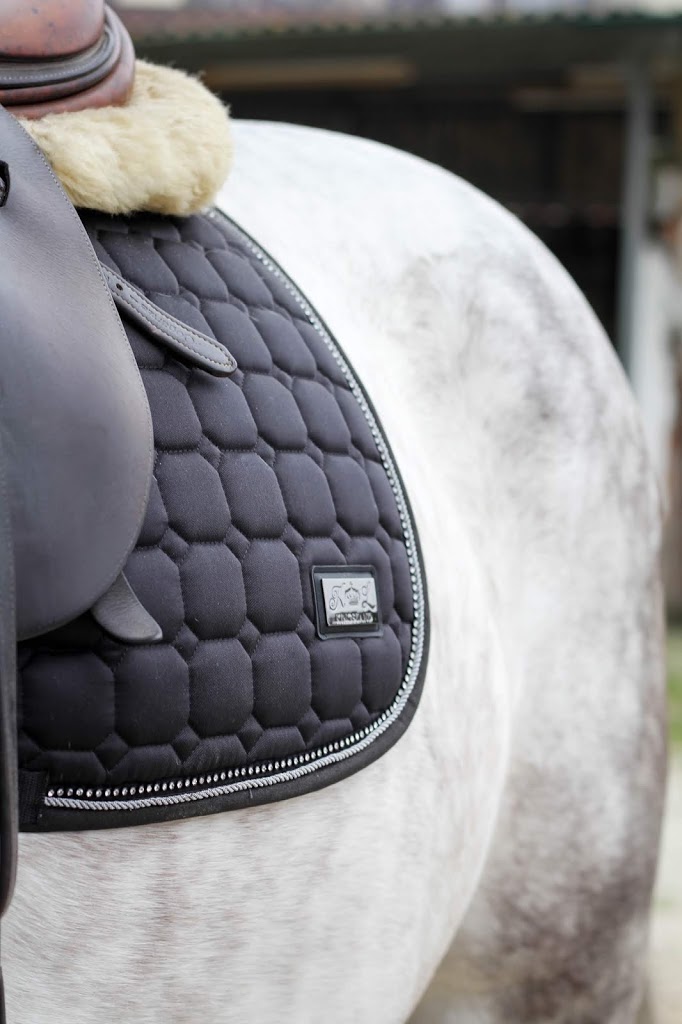 Last but not least, here's a pic of the matching saddle pad, its name is
Martha
. As I've told you in my video, and besides its beauty that I've already mentioned a hundred times, the best thing about all the Kingsland saddle pads I own is their quick dry effect.
I try to save the most gorgeous saddle pads I own for shows and there have been shows where I ended up using the same one on both days, this technology allows me to do it without worrying about it being wet on the next day.
Also, last week I used this saddle pad on Gali, and yesterday and today I used a different one. I realised that I worry very much about his withers – I will literally move the saddle pad as many times as I have to until I get to a point where I'm satisfied with how it is sitting on his withers. It could be luck but last week I got it right on my first attempt and today it took me 3 times until I was happy enough, ugh!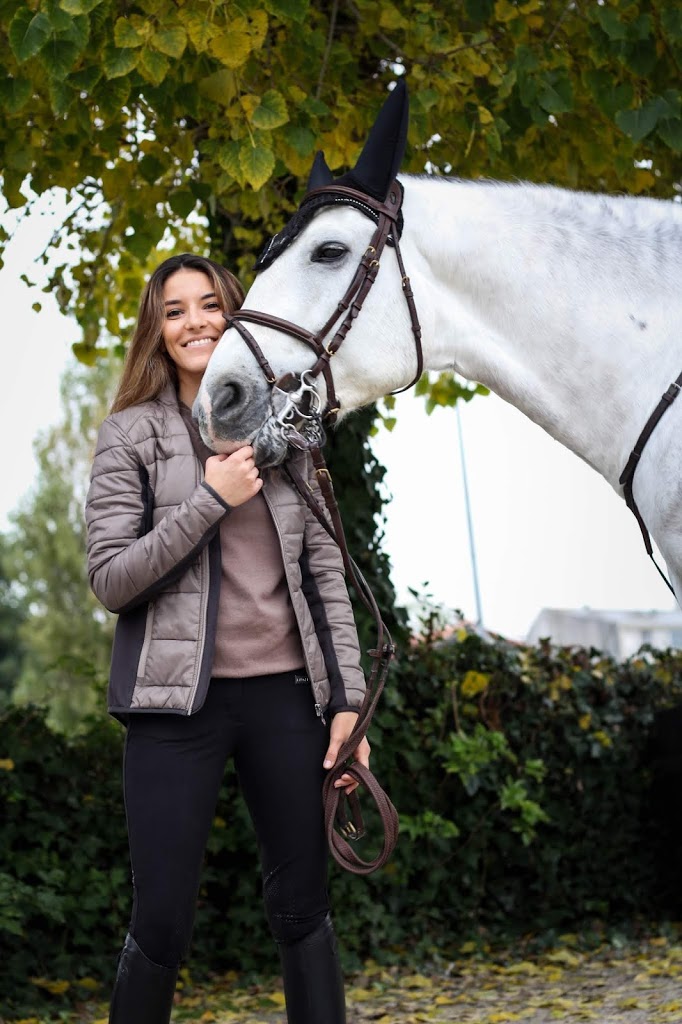 Ps.: If you saw my takeover, you'll know this was the moment Gali bit my finger! 😂
See you on the next post,
Carolina 💕