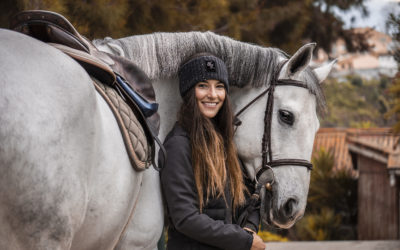 Today I share 5 lessons I've learned from my equestrian mental coach that have helped me become better at overcoming horse show anxiety!
read more
About me
Welcome to Equestrian Trend!
My name is Carolina Silva, I'm 24 years old, and I am a Portuguese showjumper (with a soft spot for Dressage!).
I own an 11yo dappled grey gelding called Galileu. Gali has survived two colic surgeries, and we have been together since he was four.
I have a degree in Business Administration and a Master's in Marketing. When I'm not riding, I'm handling Marketing for equestrian businesses.
Check my latest video
Did you know that we're on YouTube?
Take a look to the channel and enjoy my tack hauls, vlogs and inspire yourself!