[#ROOTD] Summer is Coming
Although I don't watch GoT (am I the only person on Earth who doesn't watch it?), I thought this post's tittle was good because most of my friends are constantly talking about it! 😂
Today's #ROOTD post is about my sweet Kingsland again as I'm still trying the items they sent me from their Summer collection.
I'm so happy that I got to wear something from their Earth Collection for the first time. Kingsland's Earth Collection emerged at a time where every one is getting more informed and aware about the damage plastic causes to our planet and, especially because we are animal lovers, we should help making their lives better. The Earth collection is a sustainable collection and Kingsland uses almost or 100% recycled yarn to produce Earth collection's clothing but they clearly don't compromise quality.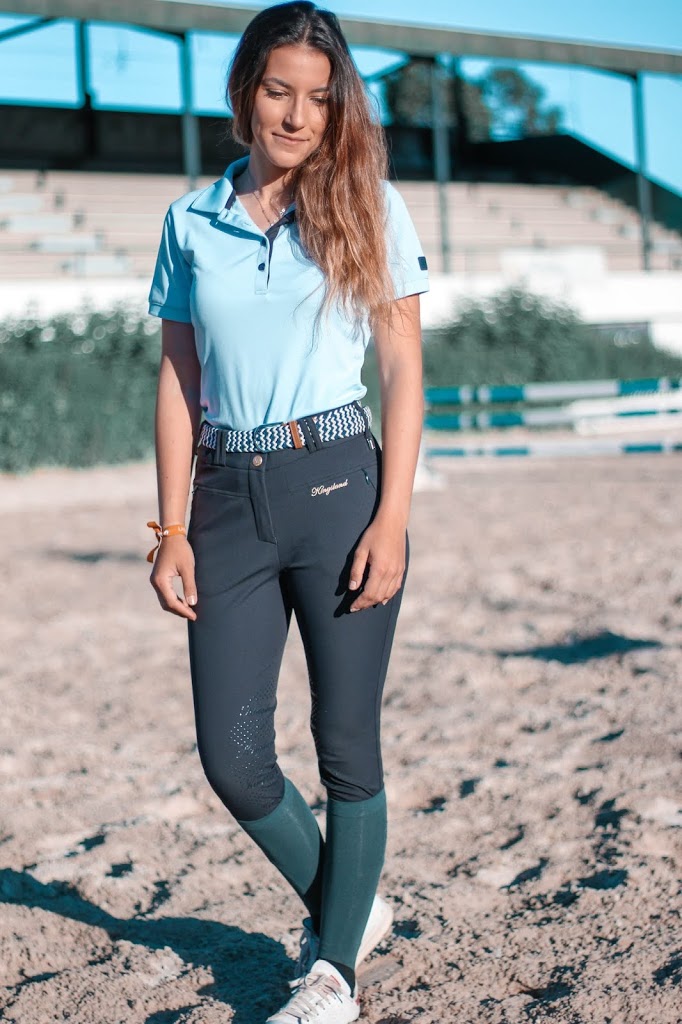 The polo I'm wearing is called
Cherry
and is one of the products Kingsland has launched for the Summer '19 Earth collection.
Besides absolutely loving its color, I've always wanted to try one of their polos with the standing colar – is this the right thing to call it? 😅 – and I was curious to see if I would like the way it looks on me and if I could also make it look like a classic colar…spoiler alert, the answer is yes and yes!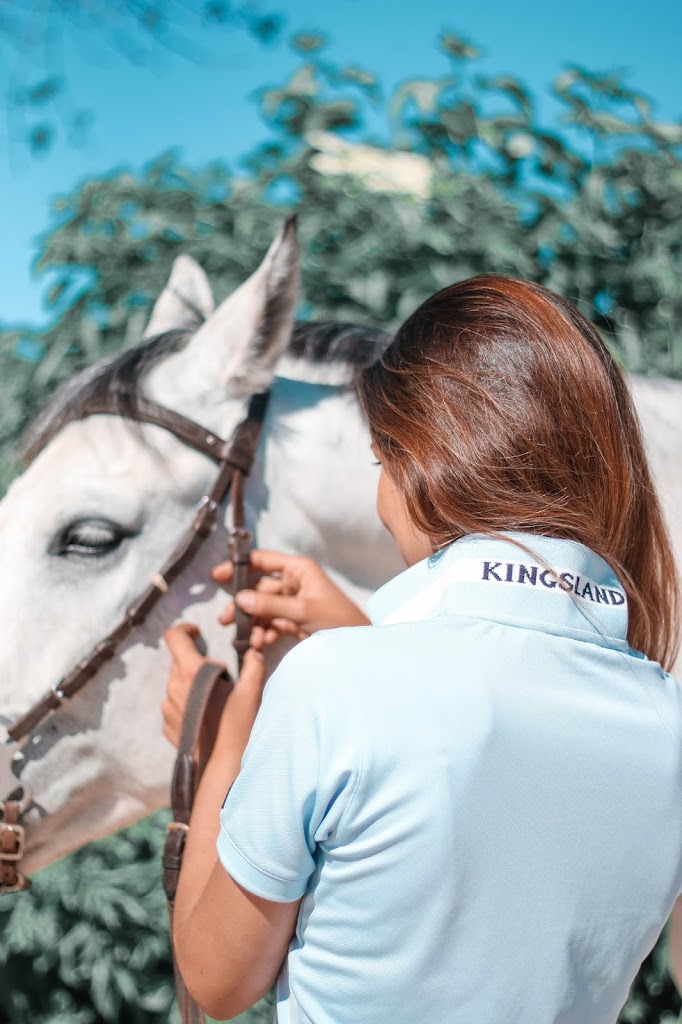 I love the contrasting white stripe with "Kingsland" written on it, it's so different from the other 500 (joking 😂) polos I own!
Regarding the fabric, I was very impressed that it feels exactly like their Lovita classic competition shirt I bought years ago. It also includes de quick dry function which I really need because I turn into a sweaty mess during Summer. The fabric is thin and kind of has that "silky" touch. So, if they didn't say it is recycled, I would NEVER have guessed it.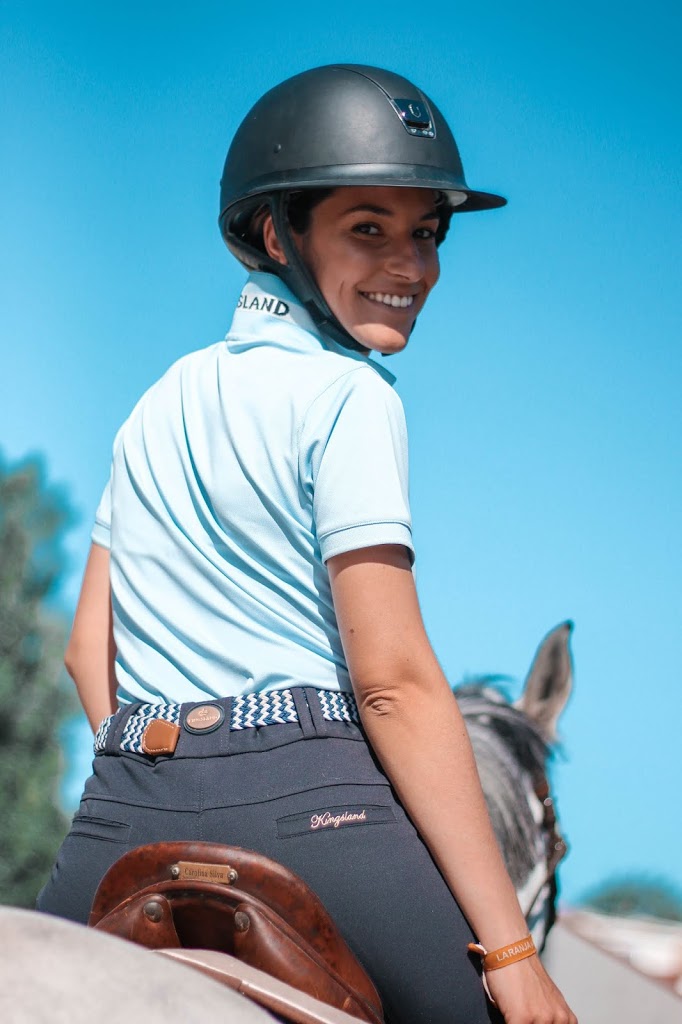 The breeches aren't from the Earth collection but they surely are one of my biggest loves too. As you probably already know, since I bought my Princess breeches I found out that my favorite style from Kingsland are the
Kadi breeches
which are high waisted (and two buttons instead of one) and incredibly flattering.
This time they came in size 36 which is usually too big for me (my size is 32-34) but I decided to give them a try anyway. I can make them work and I don't feel uncomfortable but I still have to think about selling them and then buying a smaller pair of the exact same breeches. I love feeling that the breeches are really hugging my legs but I know people who don't like that – how about you?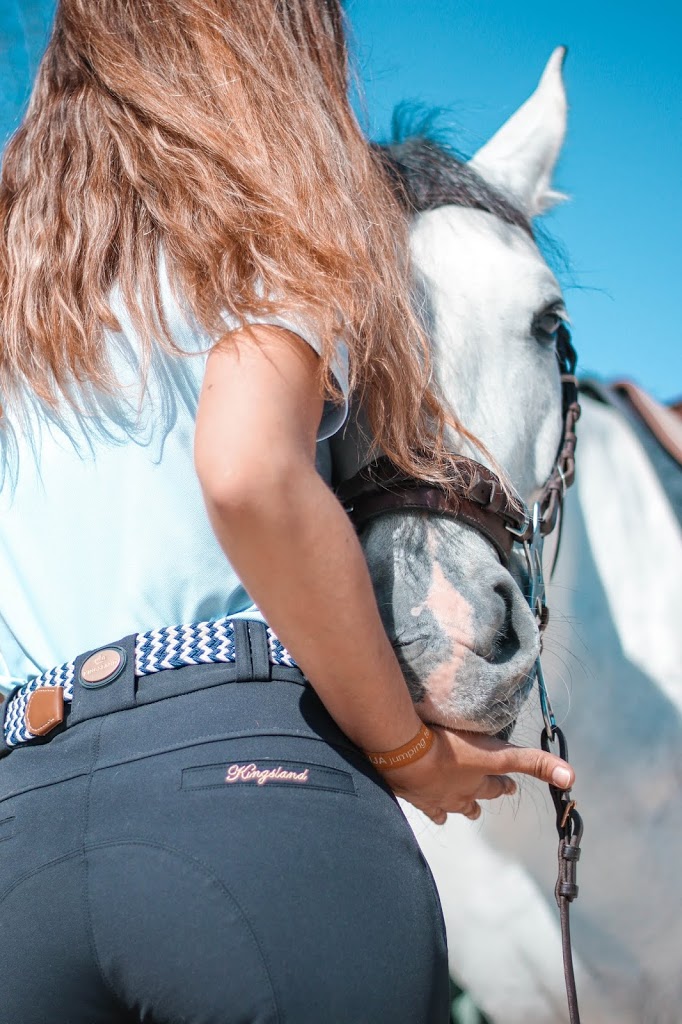 These breeches match the saddle pad I gave away on instagram (if you missed it, it was the gorgeous Las Flores saddle pad also from their Summer collection) and the metal patch on the back adds something extra to them – I love how Kingsland always adds something classy on the back of these breeches and that it changes in each collection. 
Also, one of the things I loved the most about these is that they added zippers to the side pockets so now they are both huge and safe!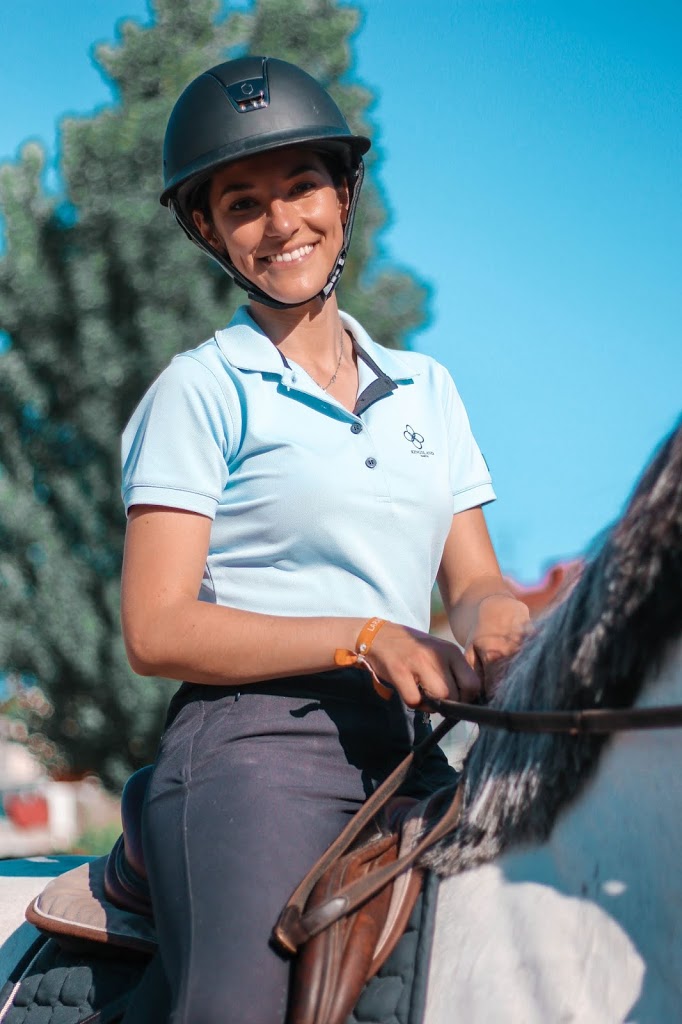 One last thing that I must write about is that their fabric is extremely dust repellent. Look at the photo above, can you see they are full of dust? After realising I was covered in arena sand I just used my hands to remove it and the dark navy color was back – YAS, no more bringing half of the arena home! 😂
Hope you enjoyed this #ROOTD and I'm off to the barn now, my pony needs to be ridden!
Have a great weekend!
See you on the next post,
Carolina 💙